Software solutions adapted to your requirements, needs and goals
Your company is unique and deserves unique solutions. Software development is no exception. It is only when it is specifically tailored to your individual requirements, needs, and goals that it makes the crucial difference. At daenet, we do not offer one-size-fits-all software development but rather precisely the solutions that you and your company need. In this article, we delve into the importance of custom software development and demonstrate why it is particularly valuable for companies in the industry.
What is custom software development?
Digitalization is revolutionizing the industry. Technologies like Artificial Intelligence (AI), robotics, and Cloud Computing form the basis of Industry 4.0. Another crucial component of the current industrial revolution is custom software development. Also known as bespoke software development, it encompasses the conceptualization, development, and implementation of software solutions specifically tailored for a company. In contrast to typical "Off-the-Shelf" software solutions (COTS), custom software development is precisely designed to meet the requirements of a specific company. From business intelligence solutions and ERP systems to mobile applications, custom software development covers a wide range of solutions that can be deployed on various platforms.
What are the advantages of individual software development?
Off-the-shelf suits may be affordable, but they are uncomfortable, quickly worn-out, and lack sophistication. Custom-made suits, on the other hand, are more expensive but prove to be cost-effective in the long run. Similarly, individual software development offers several clear advantages for companies in the industry, which we will now present in more detail:
Detailed Analysis: Let's stick with the custom-made suit analogy for a moment. When you buy one, the tailor takes precise measurements, provides advice, and tailors the suit to perfectly fit your needs. The result is a unique suit that no one else has and will make you happy for many years. Similarly, individual software development begins with an intensive analysis of your company's requirements. Only when your business processes and goals are understood does the actual software development start. In this initial step, your demands regarding functionality, user-friendliness, and seamless integration into existing systems are also taken into account.

Higher Flexibility: Standard software solutions are often rigid, and the "one size fits all" concept may not suit your needs. What you need is software that can adapt to changing requirements and conditions. Individual software development can offer you exactly that.

Real Scalability: Is your company on a growth trajectory? Then your software solutions should support that growth. Custom-made software can be easily scaled and remain useful even as your business processes or other conditions change.

Seamless Integration: Smart software development adapts to your company. That means you don't have to upheave everything but can use the software in conjunction with existing tools and technologies.

Increased Efficiency: Unlike any off-the-shelf solution, individual software development can intelligently automate and optimize established processes. This leads to resource and time savings, resulting in lower costs while maintaining or even improving quality.
Of course, these advantages come with a price. However, you should consider individual software development as an investment in the future of your company, providing a significant long-term competitive advantage.

Is the German industry investing in custom software development?
As we have shown, custom software development is a crucial component of Industry 4.0. It is not just a future prospect but has already been established. Currently, 65 percent [1] of German industrial companies are using specialized applications for Industry 4.0, such as Artificial Intelligence, Machine Learning, or custom software development. At the same time, 81 percent [2] of companies state that the lack of financial resources is the most significant obstacle when adopting Industry 4.0 technologies. In other words, when the industry is investing so intensively in technologies like custom software development, it must have good reasons to do so.

What significance does Industry 4.0 have for your company?

What are the biggest obstacles to the implementation of Industry 4.0 in your company?
What are the advantages of custom software development for industrial companies?
Industrial companies have complex business processes. One example is manufacturing. Accordingly, the requirements for software are also complex and often cannot be covered by standard solutions. Professional custom software development offers several advantages that are particularly relevant for industrial companies:
Optimized Operations: Unplanned downtime, poor production quality, or resource wastage are common issues in manufacturing. With the help of custom software development, many processes can be automated, minimizing the risk of errors. Additionally, the potential of technologies like predictive maintenance can be fully leveraged through custom software development.

Compliance and Data Protection: Your company likely deals with sensitive data. Protecting customer or supplier data should be a top priority. Failure to do so can result in significant penalties and reputational damage. Custom software development can include tailor-made security protocols and features, ensuring your company complies with even the strictest compliance regulations.

Better Customer Retention: Happy customers are loyal customers - even in the industrial sector. With custom software development, you can offer your customers customized products and solutions much faster and more effectively. Customer service also benefits, enabling you to assist your customers much better than the competition ever could.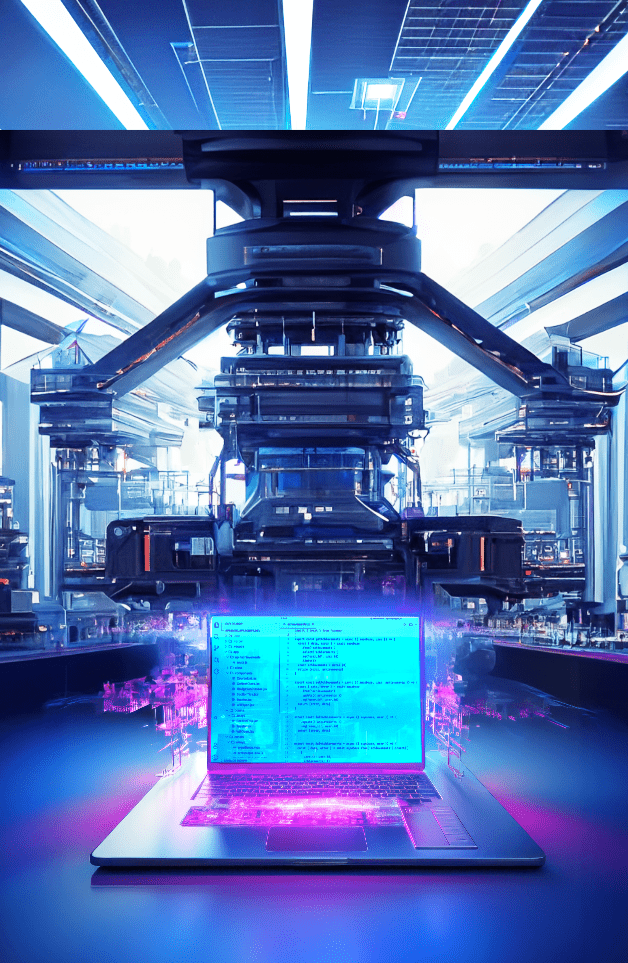 Does custom software development improve the quality of manufacturing?
Whether in mechanical engineering, the packaging industry, or automotive production, the quality of products is crucial for a company's success. Alongside competent employees and modern equipment, digital technologies offer another way to improve the quality of manufactured goods. One concrete example is through automated quality controls, which ensure compliance with quality standards. Deviations can be detected earlier, and production errors can be identified. Sensors on the machines collect countless data, which, of course, needs to be analyzed afterward. This is where software solutions come into play, assisting you in data evaluation. When these software solutions are precisely tailored to your needs, they indeed make a decisive difference and contribute to continuously improving your manufacturing and product quality!
Is individual software development sufficient on its own?
No, only in combination with digital technologies like AI, robotics, IoT, or Cloud Computing, can custom software development bring your company up to speed with Industry 4.0. Therefore, a good consultation is crucial, which takes into account the technological status of your company, involves all relevant experts, and helps avoid common pitfalls.
Who offers custom software development for the industry?
Have we convinced you of the benefits of custom software development in the industry? Now, you may be looking for a competent partner who can advise and support you in implementation. At daenet, we specialize in professional software development and, thanks to our strong partnership with Microsoft, we are capable of providing you with precisely the software solutions you need. Customized. Efficient. Innovative. Get in touch with us. We would be delighted to provide you with personal consultation regarding the possibilities of tailored software development for your company in the industry!
We would be happy to discuss implementation possibilities in your company during a personal conversation. 
Request Consultation