Application areas for machine learning
Machine learning generates knowledge in an automated manner and identifies patterns and correlations in data. Companies and organizations enhance their efficiency and solve complex problems with the help of these findings.

Many different areas apply machine learning, including:
Image and speech recognition
Prediction of events or trends
Personalized recommendations
Diagnosis of medical conditions
Prediction of machine failures
Megatrends artificial intelligence and machine learning
Certainly, the topics of "Artificial Intelligence" and "Machine Learning" are indeed megatrends. Everyone is talking about them, and it seems like everyone is also getting involved. The daenet AI/ML story began as early as 1998 when we designed our logo. The background shape of the daenet logo represents a portion of the dendrites of nerve cells. That was a long time ago, and we were clearly ahead of our time back then. Today, AI seems to have arrived, and daenet is part of it.
Not only do we work with AI, but we are also actively engaged in research in this field.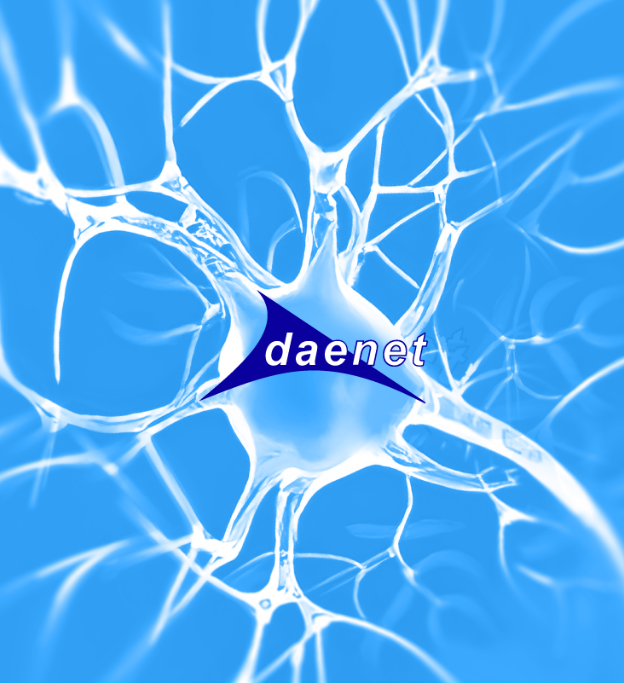 Increased productivity for your company
Our primary motivation has always been focused on research and development. We consider ourselves more of an engineering company rather than a "mathematics company," which is reflected in the fact that over 50% of our colleagues, including the management team, hold engineering degrees. Our mission is to develop software that improves your life by helping you become more productive and efficient. We provide practical solutions rather than purely scientific experiments. However, our team consists of scientists and professors who have successfully worked in real-world roles as architects, software developers, and internationally recognized experts.
The Visual Components Detector is a machine learning-based app.
The Visual Components Detector is a machine learning-based app. It analyzes images of items and automatically assigns them with corresponding product descriptions and prices. Our VCD app is "trained" by providing example images and descriptions to recognize patterns in the data and make appropriate assignments.
Damir Dobric - The architect of the app.
Damir Dobric is a co-founder, CEO, and senior architect of DAENET Corporation, a long-standing Microsoft Gold Certified Partner and leading technology integrator specializing in Microsoft technologies with a focus on cloud computing, IoT, and machine learning.Damir is a Microsoft Regional Director and collaborates with Microsoft to assist customers in adopting cloud and related technologies. He has been working as a developer, architect, speaker, and author for over two decades. He focuses on the practical implementation of customized solutions that enable digital transformation.Additionally, he is a professor of software engineering and cloud computing at the Frankfurt University of Applied Sciences in Frankfurt am Main, Germany. He conducts research in the field of computational intelligence in collaboration with the University of Plymouth in the United Kingdom.Learn more about the work of Damir Dobric:Tech-BlogNeocortexDamir on TwitterCompany websiteLectures
AI competencies of daenet
You are facing tasks that can only be solved with the use of artificial intelligence and machine learning, but you require external expertise for implementation?

Our competencies focus on:
Enabling and implementing new business models through AI
Implementation of self-learning AI solutions
Integration of AI/ML into software solutions
Machine Learning project contents include:
Data collection
Data analysis
Data preprocessing
Model training
Model integration
Innovative Open-Source Project: NeoCortex API
Based on ideas from Hierarchical Temporal Memory, Damir developed a framework in .NET Core called NeoCortexAPI. This open-source project encompasses all research findings in the form of a C#/.NET API. This new type of AI is designed to mimic the functioning of the human brain and does not rely on conventional mathematical methods like traditional algorithms. The associated scientific research highlights why a brain needs to go through a baby phase and the consequences if this is not the case. To learn more about the ICPRAM Award in the field of Machine Learning Methods, please visit:

Award in the field of machine learning methods
Higher efficiency for your AI projects
With our services, consisting of envisioning/initial workshops, assessment, design, implementation, operation, and support of the solution, we offer our deep AI knowledge as standardized best practice service packages. Our goal is to accelerate and realize your AI projects, educate and relieve your development teams, and provide you with the freedom to focus on your domain expertise and building your digital business.

We would be delighted to discuss implementation possibilities for your company in a personal conversation.
\
We would be happy to discuss implementation possibilities in your company during a personal conversation.
Request Consultation